Raymond Richman - Jesse Richman - Howard Richman
Richmans' Trade and Taxes Blog
---
Is the sun causing the cold snap?
Howard Richman, 1/7/2014

The current cold snap in the northern hemisphere is being attributed to a polar vortex, which means:
A slowing in the jet stream has caused it to zigzag, carrying warmer temperatures farther north than usual—and Arctic cold farther south. "The real story," Francis [a research professor at Rutgers University] says, is that the jet stream is "taking these big swings north and south and that's causing unusual weather to occur in a number of places around the Northern Hemisphere."
But that explanation ignores the global warmers' ship that was stuck in the Antarctic ice, which is in the southern hemisphere, suggesting that the shift in wind patterns is affecting both hemispheres.
One weather forecaster has an explanation that could explain the worldwide pattern. Astrophysicist Piers Corbyn predicts the world's wind patterns based upon what happened when the same solar activity/lunar position patterns occurred in the past. He makes his living at weatheraction.com from people who pay for his forecasts.
In this case, he attributes the current world weather system largely to a coronal hole in the sun turning toward the earth. Here is a current image of the sun, showing the coronal hole, as it appears on his website: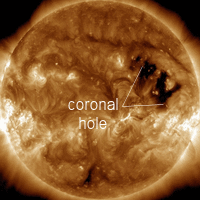 This hole will be fully facing the earth on January 10. Corbyn understands that the global warmers' theory (that increasing carbon dioxide is giving the earth a fever) is wrong. He disparages their theory as being unpredictive and disparages those who promote their theory as being "fraudsters" who are killing people by raising electricity costs. He writes:
I urge all who support evidence-based science and accountable policies THIS YEAR to give these fraudsters, spongers and thieves NO QUARTER WHATSOEVER. We have to make 2014 so uncomfortable for them and their lie machine that they would wish they could return to the sanctuary of an ice-bound ship or a Russian jail to escape the wrath of the people who are now suffering - and some dieing - under rising fuel charges and hiked food prices and taxes which are a direct consequence of the insane policies these green parasites have foisted upon the world.
Although Corbyn is based in Britain, his criticisms of government policies apply equally well to the British and U.S. governments. In service to the global warmers' theory, the Obama administration and its EPA are shutting down coal power plants and foisting much more expensive green energy upon electricity consumers. The higher prices are not only harming consumers, but also businesses and U.S. economic growth.
---