Raymond Richman - Jesse Richman - Howard Richman
Richmans' Trade and Taxes Blog
---
How the Corporate Income Tax Contributes to Income Inequality
Raymond Richman, 1/28/2014

The growing number of millionaires and billionaires and the increase in the inequality of income has being raised as a political issue by Pres. Obama. But his policies and those of his "liberal constituencies have helped exacerbate income inequality. One of the reasons there are so many millionaires and billionaires is the corporate income tax, which turns out on analysis to exclude corporate income from any tax at all. As the readers of this site are aware, we have been campaigning for the integration of the corporate and personal income taxes, essentially to treat corporations as we treat partnerships. Partners report their share of partnership profits as personal income. There is no separate partnership income tax as there is for corporations.
Not only is the corporate income tax a very bad tax from an economic point of view, economists are not even in agreement that the shareholders bear the burden of the tax. Some believe that the tax is passed on to consumers and that little if any of the burden of the tax is borne by shareholders. To make matters worse, corporations that export are disadvantaged compared to those that produce for the domestic market. In international markets, the likelihood of passing the tax on to consumers is practically nil because their competitors may pay little or no corporate income tax. Value-added and sales taxes may be rebated to exporters but income taxes cannot be rebated under international law.
...
---
Environment America: Global Warming Threatens Super Bowl Teams!
Howard Richman, 1/25/2014

Wow! Was Environment America right or not when it predicted that global warming would affect the Super Bowl? In a February 2, 2008, column New York Times columnist John Tierney criticized Environment America's prediction that global warming would have a significant effect upon the Super Bowl (Global Warming Threatens Super Bowl Teams!):...
---
Fast Track to a Bad Deal -- we're published in American Thinker this morning
Howard Richman, 1/22/2014

Here's a selection:
In their press release, the sponsors all claimed that TPA would increase jobs by boosting exports:

• Democratic Senator Max Baucus: "TPA legislation is critical to a successful trade agenda. It is critical to boosting U.S. exports and creating jobs. And it's critical to fueling America's growing economy."

• Republican Senator Orrin Hatch: "TPA will help advance a robust trade agenda that will help American businesses, workers, farmers and ranchers by giving them greater access to overseas markets..."

• Republican Representative Dave Camp: "The Bipartisan Congressional Trade Priorities Act will give us the tools we need to move more job-creating trade agreements..."

The following graph illustrates their fallacy. It shows that even though U.S. exports, as a percentage of GDP, have been increasing in recent decades, economic growth (per capita real GDP) has been slowing, a decline paralleled by declining net exports (exports minus imports) as a percentage of GDP.

To read the article, to to:
http://www.americanthinker.com/2014/01/fast_track_to_a_bad_deal.html
---
Rising Initial Unemployment Insurance Claims Bodes an Economic Downturn
Raymond Richman, 1/20/2014

Once again, there are grounds for concern that we are experiencing a downturn in economic activity and may headed for an Obama recession. The advance number of actual number of initial claims totaled 534,431 during the week ending January 11, 2014 an increase of 51,190 over the previous week. During the preceding week ending January 4, 2014, an increase in initial claims of 34,384 was reported and in the week ending December 28, 2013, an increase of 25,875 was reported. This increase in the number of claims was not reported in the media.
The media reported the BLS "seasonally adjusted" estimated of initial claims which reported a decrease of 2,000 in the number of initial claims. We consider the seasonally adjusted figure as unreliable. For weekly data, there is no good reason for a seasonal adjustment. But that is what the BLSs reports and the media publish. We consider that to be a great disservice to the community.
In the last few months, one sees a steady deterioration in the employment data. Starting from a relatively good showing of 229,485 to 255,110 initial claims in September, one observes a range of 311,516 to 368,832 in October and November, and, with the exception of the week of 12-28-2013 when 397,667 was reported, a range of 414,002 to 534,431 in December, 2013 and January, 2014. The trend is unmistakable and does not bode well for the future of the economy. Following are the data:
...
---
Rep. Alan West says no to fast track
Howard Richman, 1/16/2014

Rep. Alan West who was redistricted out of his Florida Congressional speech by his fellow Republicans is fighting the Republican establishment on giving Obama Fast Track Trade Authority. He makes some good points. The whole article is worth reading. Here's a selection as it appeared at TradeReform.org after being reposted from Brietbart:
All trade agreements come with predictions of new jobs for Americans, but those promises are always empty. Obama said our free-trade deal with Korea would be a major job creator, but after it went into effect, sales of U.S. goods fell and imports from Korea rose. When you hear someone say TPP will create jobs, hold on to your wallet....
---
Gem of a column on Keynes plans for balance of trade
Jesse Richman, 1/11/2014

It's a few years old, but I just stumbled upon it.
Monbiot begins:
Poor old Lord Keynes. The world's press has spent the past week blackening his name. Not intentionally: most of the dunderheads reporting the G20 summit which took place over the weekend really do believe that he proposed and founded the International Monetary Fund. It's one of those stories that passes unchecked from one journalist to another.
The truth is more interesting. At the Bretton Woods conference in 1944, John Maynard Keynes put forward a much better idea. After it was thrown out, Geoffrey Crowther – then the editor of the Economist magazine – warned that "Lord Keynes was right … the world will bitterly regret the fact that his arguments were rejected."(1) But the world does not regret it, for almost everyone – the Economist included – has forgotten what he proposed.
One of the reasons for financial crises is the imbalance of trade between nations. Countries accumulate debt partly as a result of sustaining a trade deficit. They can easily become trapped in a vicious spiral: the bigger their debt, the harder it is to generate a trade surplus. International debt wrecks people's development, trashes the environment and threatens the global system with periodic crises.
The entire column is worth reading. It can be read at: http://www.monbiot.com/2008/11/18/clearing-up-this-mess/
---
Initial Claims for Unemployment Insurance Are a Wake Up Call Again
Raymond Richman, 1/10/2014

In the week ending January 4, the advance figure for seasonally adjusted initial claims reported by the Department of Labor was 330,000, a decrease of 15,000 from the previous week's revised figure of 345,000. But the actual number of initial claims totaled 486,033 an increase of 34,384. The advance unadjusted number for persons claiming UI benefits in state programs totaled 3,295,112, an increase of 451,828 from the preceding week. We consider this a negative report and reinforces our conclusion last week that the economy may be slowing. While it is too soon to cry wolf, the optimism of spokesmen for the Federal Reserve and the administration and others appears to us to be wholly unjustified. ...
---
Is the sun causing the cold snap?
Howard Richman, 1/7/2014

The current cold snap in the northern hemisphere is being attributed to a polar vortex, which means:
A slowing in the jet stream has caused it to zigzag, carrying warmer temperatures farther north than usual—and Arctic cold farther south. "The real story," Francis [a research professor at Rutgers University] says, is that the jet stream is "taking these big swings north and south and that's causing unusual weather to occur in a number of places around the Northern Hemisphere."
But that explanation ignores the global warmers' ship that was stuck in the Antarctic ice, which is in the southern hemisphere, suggesting that the shift in wind patterns is affecting both hemispheres.
One weather forecaster has an explanation that could explain the worldwide pattern. Astrophysicist Piers Corbyn predicts the world's wind patterns based upon what happened when the same solar activity/lunar position patterns occurred in the past. He makes his living at weatheraction.com from people who pay for his forecasts.
In this case, he attributes the current world weather system largely to a coronal hole in the sun turning toward the earth. Here is a current image of the sun, showing the coronal hole, as it appears on his website: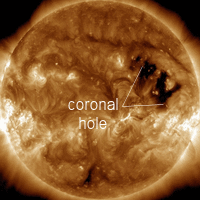 This hole will be fully facing the earth on January 10....
---
Turkey in free fall
Howard Richman, 1/5/2014

Spengler (David P. Goldman) is one of the few commentators on the world scene who understands trade surpluses and deficits. I look forward to his postings. On December 27, he reported on his blog that Turkey is in free fall:
Turkey is coming apart. The Islamist coalition that crushed the secular military and political establishment–between Tayip Erdogan's ruling AK Party and the Islamist movement around Fethullah Gulen–has cracked. The Gulenists, who predominate in the security forces, have arrested the sons of top government ministers for helping Iran to launder money and circumvent sanctions, and ten members of Erdogan's cabinet have resigned. Turkey's currency is in free fall, and that's just the beginning of the country's troubles: about two-fifths of corporate debt is in foreign currencies, so the cost of servicing it jumps whenever the Turkish lira declines. Turkish stocks have crashed (and were down another 5% in dollar terms in early trading Friday).
Don't believe the rosy reports for world prosperity in 2014. On November 24 I explained why world economic growth is actually slowing. I pointed to an OECD report which said:...
---
Are We About to Experience the Obama Recession?
Raymond Richman, 1/2/2014

In the week ending December 28, 2013, the advance number of actual initial claims for unemployment insurance, unadjusted, totaled 443,513, an increase of 25,875 from the previous week. The Department of Labor and the media reported a "seasonally adjusted" decrease of 2,000 and 399,000 claims. As we have reported in this site a number of times, we know no reason for a seasonal adjustment of weekly data. The actual number of claims totaled was over 100,000 more than the "seasonally adjusted" figure and is a cause for alarm. It is a harbinger of bad economic news.
Taking into consideration 1) that the Gross Domestic Product increase reported in the fourth quarter showed a big increase in inventories that will have to be reduced in the following quarter, the usual means for making the reduction being to reduce production, plus 2) the huge burden that Obamacare will impose on the middle class–the huge increase in monthly health costs imposed by Obamacare is equivalent to a huge increase in income taxes on the middle class, 3) the prospect that the Federal Reserve Board will reduce the rate of money creation (called "tapering", and 4) an expected bursting of the stock market bubble generated by the Fed's keeping interest rates at an artificially low level, it is not unreasonable to expect a serious economic shock to the economy, not unreasonable to expect another recession. ...
---
---